Crane & Lift Rental Services in the Pacific Northwest
Offering a Diverse Fleet for Any Type of Project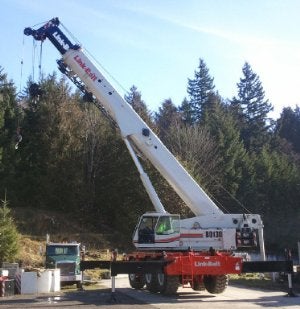 Construction projects require a lot of heavy lifting, often over rough and varied terrain. Crane rental services that offer rugged utility, low hassle, and reliable performance are indispensible for completing projects on time and on budget. Millican Crane Service has faithfully provided a well-maintained fleet of cranes and trucks, as well as personal attention to construction projects in Olympic Peninsula since 1997. We have had the distinct privilege to work on a wide variety of public and private heavy rigging projects in the area, and we are well equipped to offer the perfect solution for any job.
The Right Equipment at the Right Price
Whether a job is big or small, requiring short-term or long-term rentals, Millican Crane Service is ready to deliver. You can depend upon our expertise to choose the right machinery for the job, and our mobile service is available to conveniently deliver all construction equipment on-site. While we do not offer bare lift or creane rentals, you can rest assured that our certified crane operator will handle your tasks with the utmost competence and efficiency.
Our cranes and trucks themselves come in a variety of sizes and configurations to perfectly match your project's demands, including:
25-130 Ton cranes
Truck-mounted cranes
Hydraulic cranes
All-terrain cranes
Rough terrain cranes
City class terrains
No Compromise on Quality
Whether you're looking for a Terex crane, crane truck, or boom lift rental, we have it all. When you call Millican Crane Service, you can expect a well-maintained construction crane with an expert operator and attentive customer service all at a superb value. Call our friendly representatives today at (360) 779-6723 for more information regarding our fleet and how we can assist you!

Why Choose Us
Safety is Our #1 Priority
Reliable Service
Experienced NCCCO Operators
Certified Equipment
Government Contract Specialists
Over 22 Years of Experience